Link to this page: https://www.socialistparty.org.uk/issue/1156/33350

Home
|
Le Socialiste November 17, 2021 |
Join the Socialist Party
Subscribe
| Make a donation
| audio | PDF | Ebook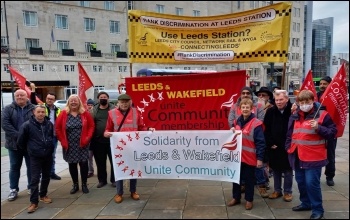 photo: Leeds Socialist Party (Click to enlarge)
Kevin Pattison, President, Leeds and Wakefield Unite Community Branch and Leeds Socialist Party
More than 50 taxi drivers demonstrated in Leeds on November 10, against proposals by Network Rail and the Combined West Yorkshire Authority to relocate the cabins taxi rank to a space below the station.
This is the third protest which has again been supported by Leeds and Wakefield Unite Community, the Unite region and the Socialist Party.
The campaign is also supported by Leeds Access Use-Ability Group, a campaign group led by people with disabilities who believe it will discriminate against people with disabilities and others.
A recent Unite survey showed that 70% of station users want the row to stay at ground level.
One of the leaders of the taxi drivers who spoke said he was very disappointed that Leeds City Council had not sided with the drivers and represented their point of view to Network Rail. The proposal would rely on an exterior elevator or steps to reach the new taxi rank under the tracks and no longer adjacent to the well-lit entrance.
The outdoor elevator at the other end of the station has been out of service in the past. The space under the station, being closed, will trap the exhaust gases, polluting the air for taxi drivers and passengers.
Too often, decisions are made with only token consultation. Labor advisers should engage constructively with unions and not blindly follow Network Rail's disconnected decisions.